#6478

SkyFoundry Insider for Feb 2022: The Technology Issue!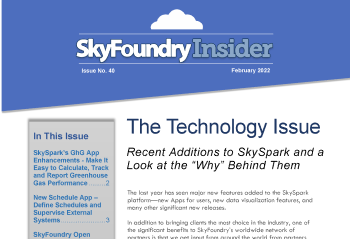 We are excited to announce the latest issue of the SkyFoundry Insider newsletter – The Technology Issue. SkyFoundry continues to advance the capabilities of the SkySpark platform to address the diverse needs of its worldwide community.
This issue highlights SkySpark's new integration with Python to advance Machine Learning capabilities, the all new Schedule App, enhancements to the GhG App, new features for Cloning records across SkySpark nodes distributed architecture systems, and the release of SkySpark's SAML-based Single Sign On features. Also included are an updated review of the Haxall open-source initiative, through which SkyFoundry is open sourcing core SkySpark code to help accelerate the development and reduce the cost of creating IoT devices for the built environment, and a quick review of the highly successful in-person SkyPosium event.