#5853

Haystack Magazine 10th Anniversary Edition - Spring 2021 is Now Available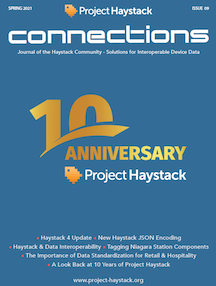 We are excited to inform the community of the publication of the Spring 2021 Haystack Connections Magazine! This issue commemorates the 10th Anniversary of Project Haystack, founded in March 2011, and highlights the continued advancement of the Haystack standard and the commitment of the community to further enhance the value the Haystack semantic tagging standard brings to the built environment.
Articles highlight new releases of Haystack 4 technology, new corporate members of the Haystack organization, a new JSON encoding standard, new advertisers and supporters, Haystack tagging in Niagara, Data Standardization for Retail applications, Working Group updates, detailed information on the upcoming Haystack Connect 2021 event which will be held online May 4-6, and a retrospective on past Haystack Connect conferences.