#5225

Frost & Sullivan Recognizes SkyFoundry with 2020 Best Practices Award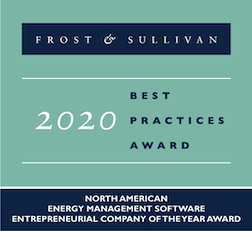 We are excited to announce that SkyFoundry has been recognized by Frost & Sullivan as 2020 North American Energy Management Software Entrepreneurial Company of the Year.
Based on its recent analysis of the North American energy management software market, Frost & Sullivan recognizes Virginia-based SkyFoundry, LLC with the 2020 North American Entrepreneurial Company of the Year Award for disrupting the market with its SkySpark® platform which has demonstrated market and technological leadership in enabling customers to turn data into actionable intelligence and adapt to new business models.
Each year, Frost & Sullivan presents this award to the company that has demonstrated excellence in devising a strong growth strategy and robustly implementing it. The recipient has shown strength in terms of innovation in products and technologies, leadership in customer value, as well as speed in response to market needs. The award looks at emerging market participants in the industry and recognizes their best practices that are positioned for future growth excellence.
Read the Frost & Sullivan Press Release at this link
Read the full Frost & Sullivan SkyFoundry Best Practices Award Report at this link
We want to offer our thanks to all of our partners and customers that have supported us over the years and to the dedicated SkyFoundry team that made this honor possible.